This article will address causes to software key error messages found while using BioLab or analysis applications, and common solutions to address them.
---
1:  "Error: No software key present!" or "Error: No dongle present!"

Cause: The software application is not recognizing the presence of a software key in the PC.

Solution: Insert a MindWare software key into the PC being used.
Solution: Ensure the software key is not plugged into a USB 3.0 Port.
Solution: Plug the software key into a different USB 2.0 port or try using a different USB hub if one is being used, wait 20 seconds to allow key drivers to initialize, and push "Retry".
---
2:  "Error: Software license not found!" or "Error: App not present on dongle"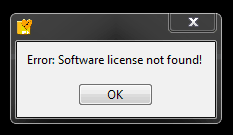 Cause: The software key does not have a license for the analysis application trying to be opened, or the version of the app installed on the PC does not match the version on the software key.