Join us on the 25th of April at 12:30 EDT for a free webinar on the MindWare Impedance Cardiography (IMP) analysis application hosted by Jay Schmidt. The webinar will be conducted using the brand new 3.2 version of our impedance application. This webinar is designed to offer an introduction to the MindWare analysis software for analyzing IMP data. The webinar will last 1 hour, with the first 45 minutes featuring a walk-through of the IMP program, and the remaining 15 minutes for open Q&A.
The topics we'll cover during the webinar include:
Application configuration

IMP signal processing

Ensemble editing techniques

Breakdown of results output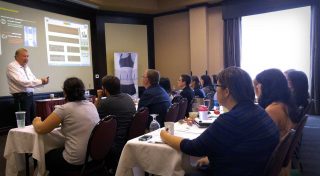 The 2018 Heart Rate Variability Seminar and Workshop will provide attendees with a scientific understanding of the origins of the measurement, its quantification, and interpretation. It provides a unique blend of science and real-world scenarios with caveats of determining this important component of autonomic function. Attendees will learn how to acquire the requisite physiologic measures, use best techniques for placement of electrodes, and understand what constitutes usable vs unusable data.
This seminar will be valuable for entry-level through well-seasoned researchers and provides a great opportunity to meet and discuss research with fellow attendees. In past seminars, this has developed new friendships and collaborations.