It is a good idea to download and try running the TeamViewer application a few days prior to the screen sharing session to ensure there aren't any security regulations preventing the application from working properly.
Here is a direct link to our TeamViewer download. Please do not use a generic TeamViewer application download as this link is for a MindWare-specific TeamViewer application. Please download and run the application. After the application opens, you should receive a session code similar to the one found in the image below. If you do not receive this session code please let us know as soon as possible so we may troubleshoot the issue or switch to a different screen sharing application.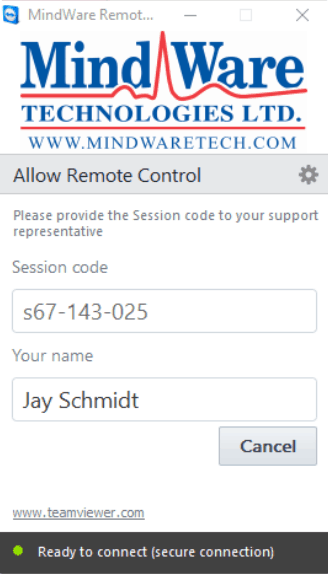 You may close out of the TeamViewer application, but please keep the application download or you will need to download a new version right before the training session.
What should I do if I cannot use TeamViewer?
If IT computer security regulations are preventing you from using TeamViewer please let us know as soon as possible so that we may switch to a different screen sharing application method. Some alternative options are Skype, Google Hangouts, or GoToMeeting.
If Skype is not already on your computer you can download it from the Microsoft website here. If security regulations prevent you from downloading or installing any applications, Google Hangouts has a web-based screen sharing function that we can use, but this is not preferred and still requires a plugin to be downloaded from Google.